Religion

As in the case of rest of South India majority of the people of the state of Kerala are Dravidians. Hinduism is the principal religion with considerable percentages of Muslims and Christians. Christianity has a long history in this state, as it is believed that the first missionary from St.Thomas, the Apostle, landed on the coast of Kerala in the first millennium.
Kerala has hundred percent literacy and this has resulted in high health care and health awareness among the people. Here child mortality is lowest among Indian states and is comparable to those of developed countries. The women in the state enjoy high social status mainly due to the historical matrilineal system where by property, etc are transferred to females. Higher education and equal opportunities have further strengthened women's status in Kerala's society.

Dress

The women mostly dress themselves in those wonderful six meters of silk or cotton called the "Sari". The more convenient dresses like Churidar and Western fashion styles are popular among the younger generation. The men mostly subscribe to trousers and shirt like the rest of the world. However you shouldn't be surprised if you find them dressed in the traditional "Kasavu Mundu", a three to four meter long cotton twin cloth with silk border, as formal dress and a colourful cloth called "Kaily" or "Lungi" at home as the informal dress. Mundu is more popular in the rural areas. The typical traditional dress of a Malayalee is "Mundu",the top covered with a silk cloth called "Melmundu" and wooden slippers called as "Methiyadi"The methiyadi has become obsolete nowadays.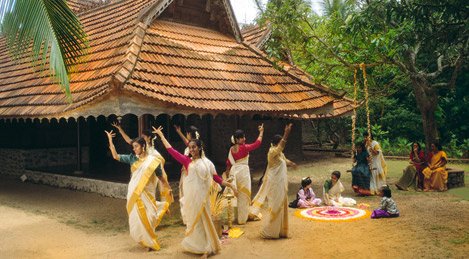 Language

There are Malayalees living all over the world. About 2.5 million people, that means about 8% of the total population, in the Gulf Countries are Malayalees. Also a large number of Malayalees are employed in and other European countries. A survey showing that about 30% of Computer Software professionals in are from among them 20% are from Kerala.
Malayalam is the language of Kerala. Keralites are popularly called "Malayalees" for the language they speak. The people of Kerala form a well educated society. Kerala is the first state into achieve 100% literacy.Although the official language of Kerala is Malayalam,English too is widely spoken and is taught in schools and Universities.

Kerala is one of the most progressive states in terms of social welfare and physical quality of life. The matriarchal system here is a unique social heritage and the women of Kerala enjoy a better status than their counter parts else where in . The people of Kerala enjoy a unique cosmopolitan outlook, which is reflected in there tolerance towards other races and religion.
Lifestyle

The people of Kerala, in general, lead a simple yet sensible lifestyle.They like to live in their own world of simplicity and originality. They are known as "keralites", since they are natives of Kerala. Kerala people are very protective about their religion and ancient practices. They are proud of their culture and will go to any lengths to preserve them. They like to retain an uncomplicated lifestyle and they seem happy and content with the simple pleasures of life.
The people of Kerala speak Malayalam. These people emphasize much on education and make it a point that the younger generation knows the religious teachings of their culture. Yet, most people are conversant in English and make it a point that their kids receive the best education.
The people of Kerala dress very ordinarily. They do not believe in showing off. They are content with the quality of life. They seek mental satisfaction more than materialistic pleasures. The women dress up in a traditional dress called Sari, which requires draping skillfully a six-meter long cloth on oneself. The men mostly wear cotton "lungi" (a sarong like dress) with a towel on top. The men in cities wear pants and shirts. The younger generation follows fashion and wears anything from jeans to salwar kameezes.The cities in Kerala comprise of exuberant youth willing to imbibe whatever that suits them from the national and international arena.